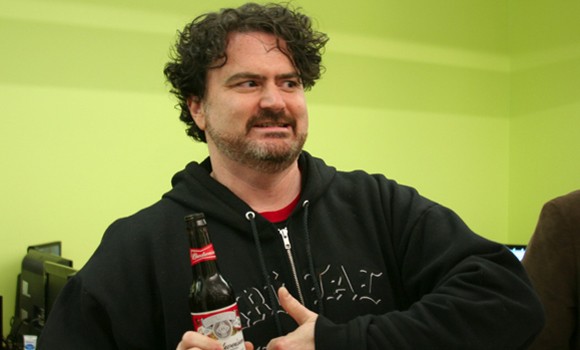 Double Fine, the company behind non-hits like Psychonauts and Brutal Legend have started up their "amnesia fortnight" scheme, a two-week event where the company abandons all its current projects so it can conjure up new game ideas. However, the event has lead to a long term issue for the company, as the "amnesia punch" that Mr Schaefer makes everyone drink prior to beginning the fortnight has lead to a seemingly permanent memory loss for the company.
"WHO ARE YOU?!" screamed Mr Schafer when I held a mirror up to his face mid interview. Then I put it down an asked him some real questions.
"All I remember is drinking the purple punch… anything before that is a blur… a horrible, colourful blur. I think I had a wife and kid. I don't know any more… I also think I used to have two arms but fuck knows where the other one has gone. Am I in charge here? How do I log in? Are you my boss?"
When pressed for more information regarding any of his Kickstarted games Mr Schafer banged his head on the table and screamed "Don't remember, go away, all Kickstarter appeals are non-refundable!" over and over until we left the office.
On our way out we took some of the juice for analysis, and discovered it was nothing more than Ribena and paracetamol  Mr Schafer was seen leaving the US via luxury jet yesterday, and is believed to have found a new life in Kuala Lumpur.