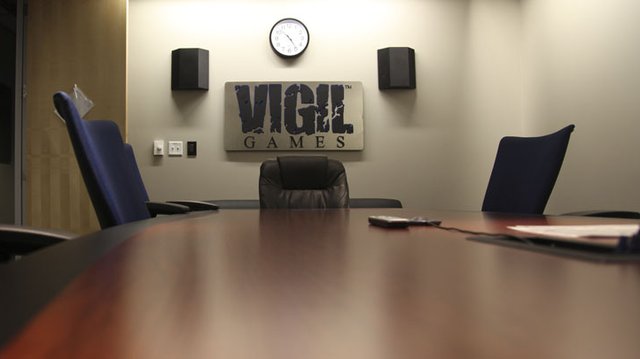 In a surprise twist the studio Vigil Games, after failing to be bought at the THQ studios auction, has decided to Kickstart a campaign to rent out an auction house to try again. The studio, believing it wasn't bought simply because everyone was saving their cash for South Park, Metro and Homefront decided that the only way to save itself was to crowd source funding for another go of selling itself to high ranking publishers.
So far the Kickstarter has raised nearly $20 of the require $10,000 it needs to pull off this idea, and with only 5 hours left to go it looks like there's not much hope for the studio. This too comes despite the reward tiers, which are:
$1 or more: Own Vigil Game Studios
$5: Own Vigil Games studios and an exclusive wallpaper
$10: Own Vigil Game Studios and a mug
$20: Own Vigil Game studios and our coffee machine
$50: You can write Darksiders 3 about whatever you want (also you will own Vigil Game Studios)
$100: We will kill anyone.
$200: We'll start a blood cult in your name.
$500: PRAISE BE TO THE MIGHTY MONEY GOD!
The only pledge has been made by a Mr Frank Bigly of Massachusetts, who when asked in an interview why he'd made the pledge of $20 he said "I really need a coffee machine. Like, a proper one, not one of those percolator things and Vigil seem to have one. It has a setting for frothed milk, I mean, that's awesome! Don't know what I'm going to do with the studio though…"